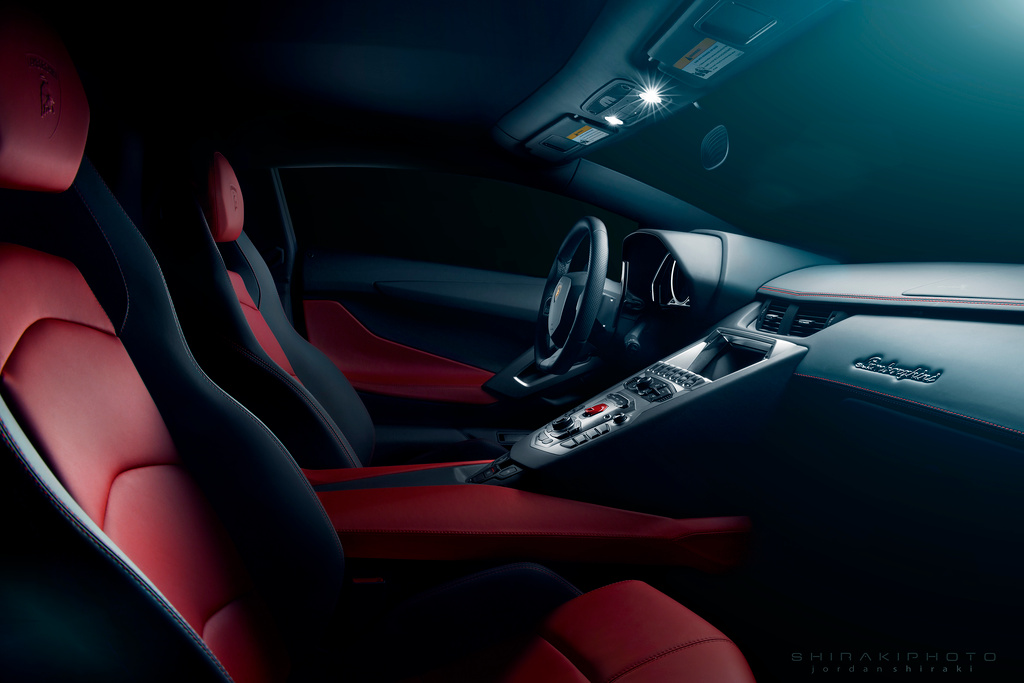 This is as close to perfect as I've ever achieved with an interior shot.  Due to popular demand, I created a brief tutorial on how to light an interior like I did in this shot.
Car: 2014 Lamborghini Aventador | $450,000 | 700hp V12 | 0-60: 2.9s | top speed: 217mph
Camera: Nikon D800 | Nikon 24-70mm f/2.8 lens
Lighting: Profoto D1 Studio Kit (3 Monolights/stands/softboxes)
Transceiver: Profoto Air Remote
Remote Trigger: RFN-4S
Power Source: Honda EU2000 Portable Generator
Tutorial:
There's a ton of gear listed here but it would all be utterly useless without first knowing how to light the interior properly.
With everything, practice makes perfect.  And before performing this shoot, I first experimented at home to ensure I could achieve the results I desired.
So here's a brief tutorial on what I did and how I did it.
Step 1:
-Find a 1:18 model car: I have a ton laying around at home and of course it had to be a Lambo 🙂
-Get a flashlight: An LED is preferred to better simulate the size/relative output of a strobe
-Put your camera on a tripod: The exposures are a little long (1.5s) and the tripod will free up your hands so you can more easily experiment with the light
Here's my set up: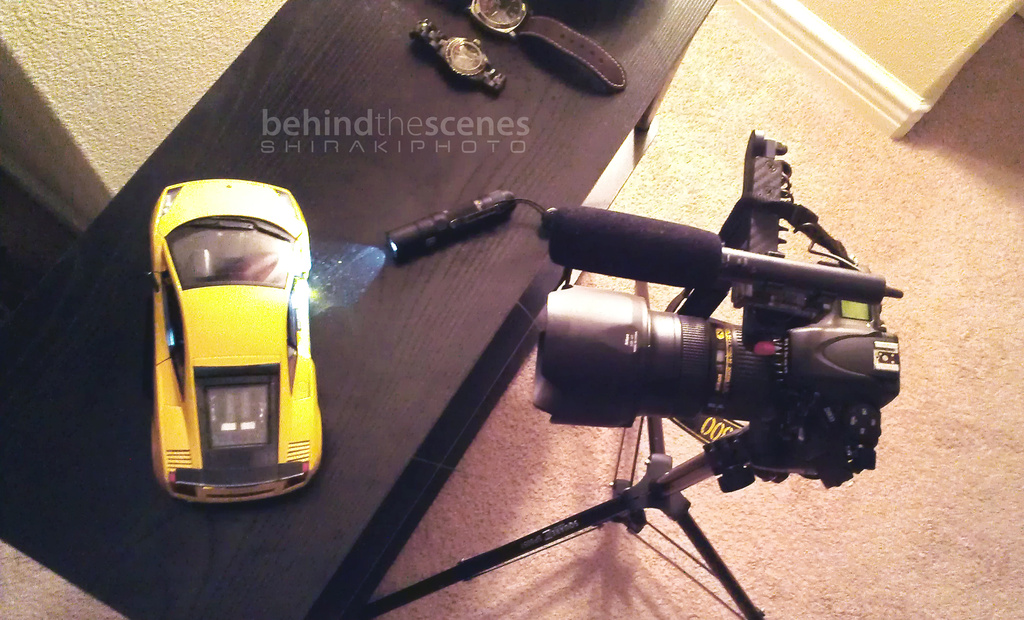 Step 2:
-Focus your camera then lock the autofocus to avoid having the camera try and refocus later on
-Turn off all your lights so it's pitch black
-Experiment with different lighting positions of the flashlight
-This shot below has the light source high above through the windshield to light the dash, giving it a dramatic look and feel: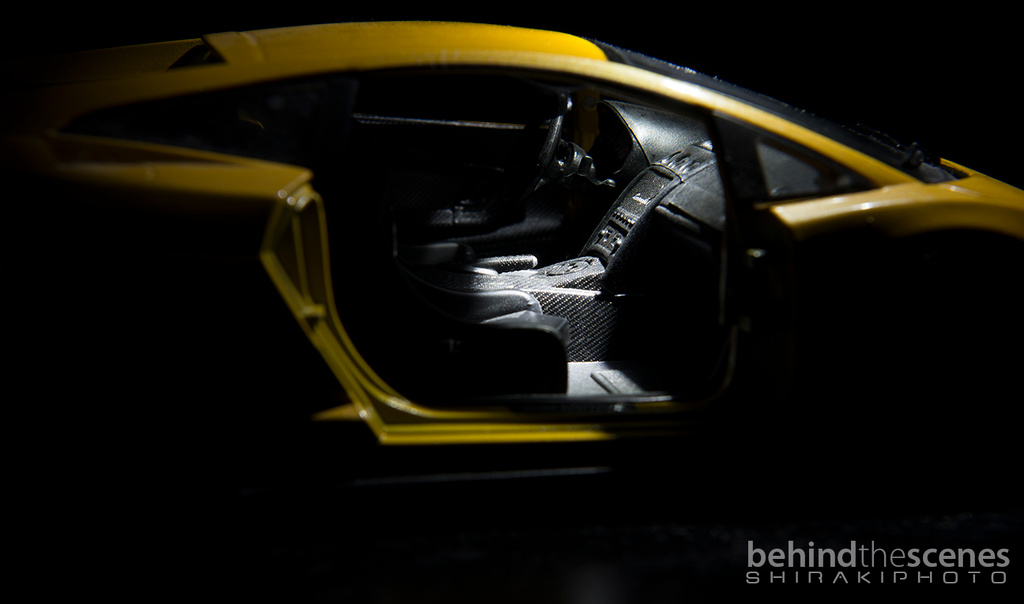 In this shot, the seats and the rest of the parts I missed with the above image are now lit: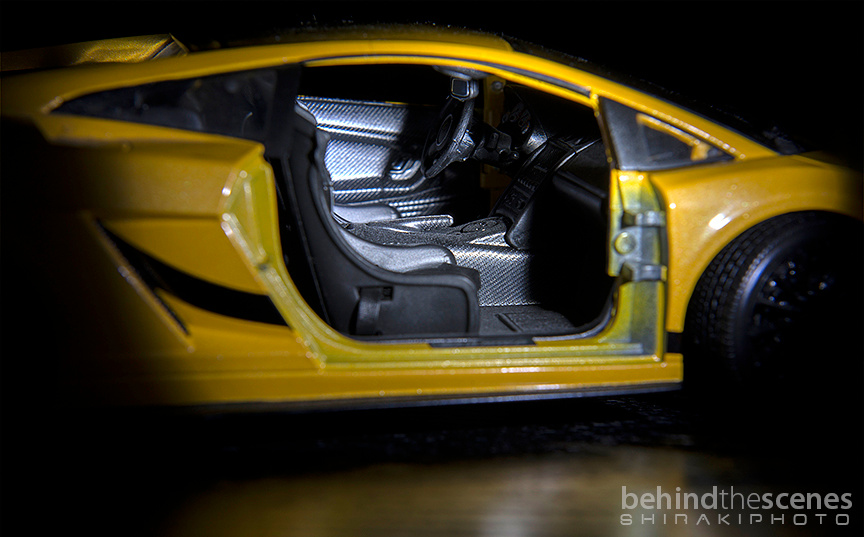 -Keep experimenting till you figure out how you want your shot to look
Step 3:
-Post process to your liking
-I personally desaturated the image a bit and added blue and green tones, which I knew I'd do in my real shot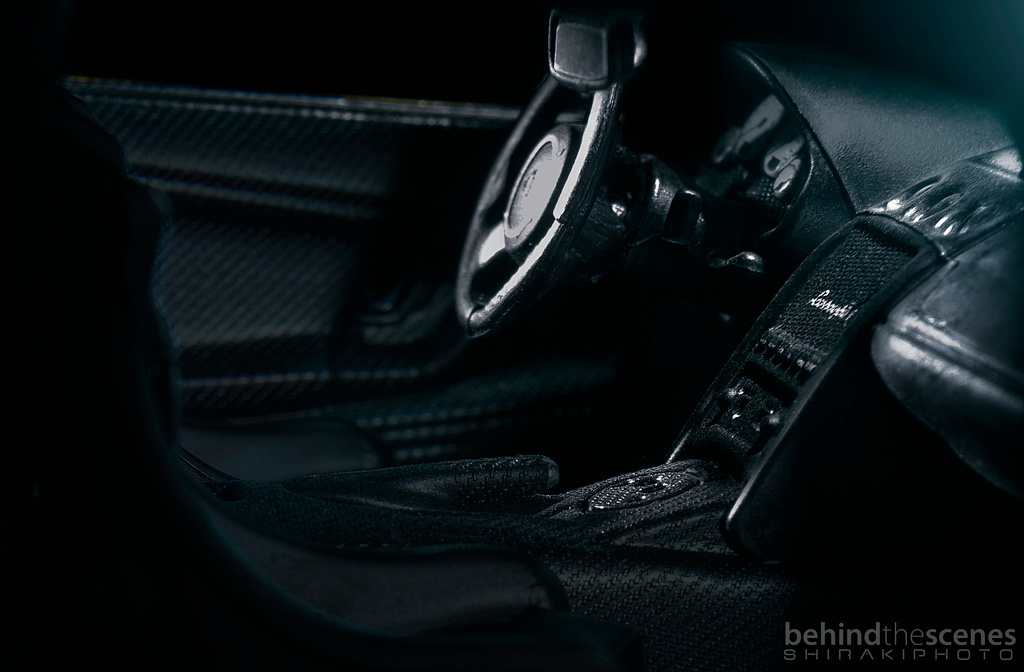 -Remember the approximate positioning of the flashlight so that you can apply it to your real shot of the full sized car
The end result:
-After arriving at the job, I knew almost immediately where to position my 3 strobes.  This not only gave me the confidence I needed to pull off this shoot, but also made everything run smoother saving me both valuable time and energy.
-This is a fun little exercise anyone can practice at home for almost no cost at all.
I Hope you found this post useful. If you have any questions or comments, feel free to leave them below or email me at jordan@shirakiphoto.com; and I'll do my best to answer them in a timely manner.  Thanks for stopping by and hope you have an A1 day!
-Jordan